Item request has been placed!
×
Item request cannot be made.
×
Processing Request
CLIP
The Consumer Library Information Prescription (CLIP) program is a free medical information service provided by the Atlantic Health System Libraries to all patients, their families or caregivers, and the public. Detailed information on 675,000 physicians and 180,000 dentists. To contact them, click here, call 908-522-2699, fax your request to 908-522-2274 or email request to clip@atlantichealth.org.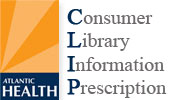 Find a Doctor or Health Facility
The New Jersey Department of Health site includes many tools to help you select a doctor or health facility.

Health Tote Bags
Bernards Township Library has partnered with the Atlantic Health System – Morristown Medical Center Library, to provide the community with health tote bags targeted to specific health topics. This collaborative project is funded by Morristown Medical Center.
Health topics include: 
Alzheimer's disease
Arthritis
Autism
Bereavement and Grief
Caregiver Health
Diabetes
Heart Health
Healthy Weight
Mental Health
Parkinson's Disease
Stroke Recovery
Substance Abuse
Hospice and Palliative Care
Atlantic Health System used the Community Health Needs Assessment to choose priority health issues for the tote bags. Experts at the medical center selected the books, CDs, DVDs and handouts for the bags. Bernards Township Library has added the "Health and Living Well Resources in Our Community" brochures.
"We are very excited about this initiative that provides one-stop health information to our community on these vital health topics.", states Ruth Lufkin, Director of Bernards Township Library.
The tote bags are available now to check out for 28 days. The bags are located in the upper level of the Library by the cactus garden. For questions or further information, please visit or call the reference desk at 908-204-3031 ext. 4.