Comics and Graphic Novels
Item request has been placed!
×
Item request cannot be made.
×
Processing Request
How it Works:
Create an account in order to use your library's RBdigital subscription service. Need help gettings started? These step-by-step instructions will walk you through everything you need to know.
After creating an account, you can view your library's collection, check out comics and magazines, and read online in the browser or through the mobile app. The collection includes 90 different titles encompassing over 500 issues of comic books, including many Marvel Universe titles.
---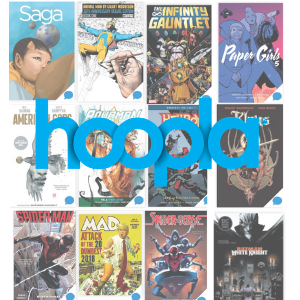 hoopla
hoopla is a digital media service that allows you to borrow movies, music, audiobooks, ebooks, comics and TV shows to enjoy on your computer, tablet, or phone – and even your TV! With no waiting, titles can be streamed immediately, or downloaded to phones or tablets for offline enjoyment later.
---